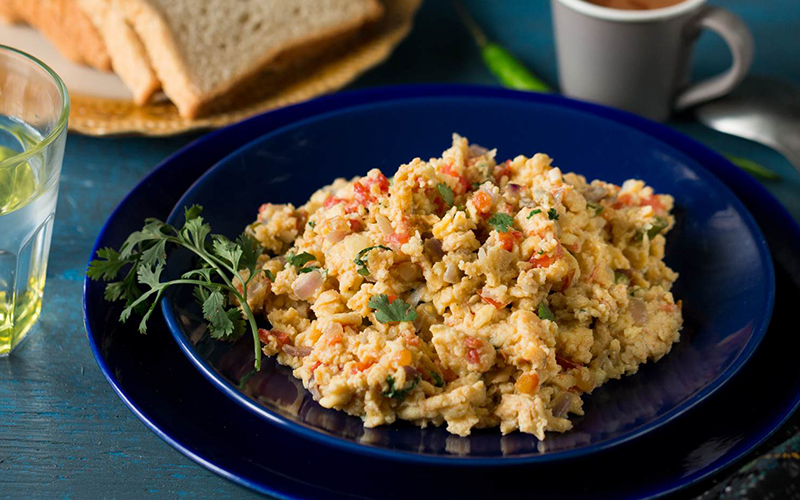 Eggs - 3
Onion, chopped - 1 large
Sundried tomatoes, chopped - Quarter cup
Chilies, chopped - 2
Coriander leaves, chopped - half cup
Garlic, chopped - 5 pods
Salt
Red chili powder - 1 tea spoon
Turmeric- 1 tea spoon
Cumin powder - 1 tea spoon
Black pepper, crushed - 1 teaspoon
Butter - 1 table spoon
Avocado, ripe - 1
Refined Oil - 2 table spoons
Parmesan cheese, grated - 3 table spoons
French baguette - 1
Heat refined oil in a pan and cook onion till brown.
Add chopped chilies and sun dried tomatoes and cook for a minute.
Add all dry spices and cook further for a minute.
Turn the gas off at this point. Add beaten eggs, salt and coriander leaves.
Stir continuously, off the flame, while the pan is still hot, add butter and cook till creamy.
The heat in the pan should cook the eggs right through. The akuri should not end up overcooked, but should be a little wet.
For a dryer akuri, turn the flame on and cook the eggs till desired.
For the crostini, slice the French baguette and toast them till brown.
Cut the avocado into halves, take the seed out and scoop out the pulp.
Season the pulp with salt and pepper, mash them with a fork.
Place the warm toasted costinis on a plate.
Spread the avocado mash on the toast.
Top the avocado mash with warm, creamy akuri.
Generously sprinkle grated parmesan cheese on the egg.
Garnish with chopped coriander and more sundried tomatoes.