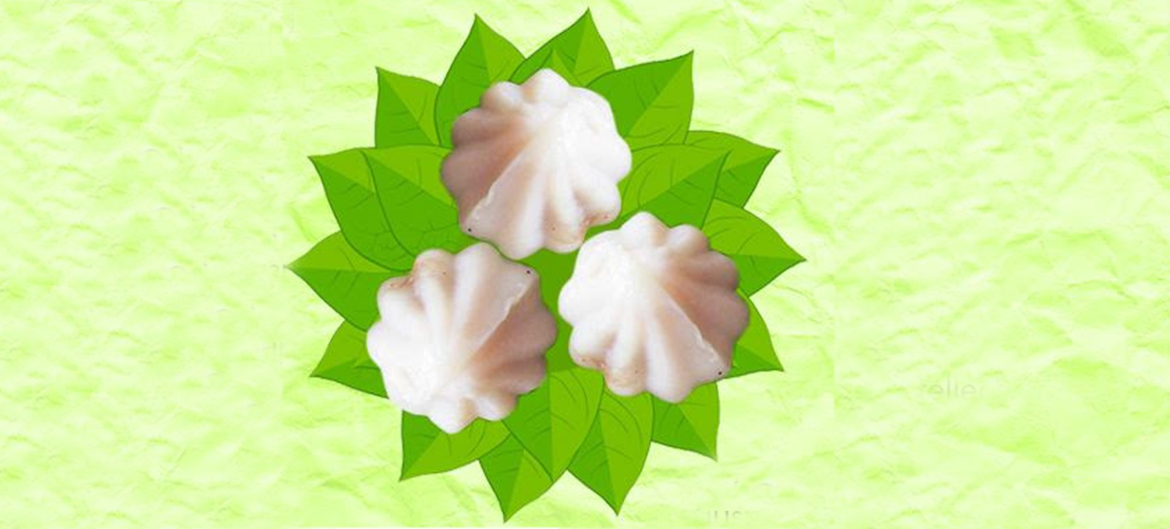 Rice flour - I cup
Water - 1.5 cups
Ghee - 1 tea spoon
Salt - 1 tea spoon
Freshly grated coconut - 1 cup
Grated jaggery - 1/2 cup
White sesame seeds - 1table spoon
Poppy seed - 1 table spoon
Ghee -1 table spoon oil
Green cardamom powder - 1 tea spoon
Nutmeg powder - 1 tea spoon
In a vessel, boil water, 1 tea spoon of ghee and salt.
Add the rice flour to the boiling water and stir on a low flame for 30 secs.
Switch off the gas and stir the wet dough well. Cover with lid for 5 minutes.
While the dough is still warm, knead well to get rid of any lumps. Cover the dough with a damp cloth.
For the filling, heat ghee in a pan. Add grated jaggery and cook till it melts
Add poppy seeds sesame seeds and coconut and cook further for 3-4 mins.
Don't over-cook the mixture else the jaggery will caramelize.
Turn the gas off, add cardamom and nutmeg powder, mix well and allow to cool.
In a steamer, bring water to boil.
In the meanwhile, use a modak mold for filling, stuff rice dough nd flatten walls with your fingers.
Stuff center with jaggery filling, and cover base with dough.
Place the modaks in the steamer and cook for 10 mins.
Once ready, remove on a plate.
Pour warm saffron flavored ghee on the modak before serving. Sprinkle chopped dry fruits if desired.